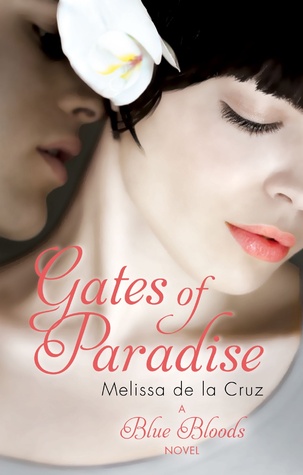 Title: Gates of Paradise
Author: Melissa de la Cruz
Genre: Young Adult, Paranormal
Publisher: The Little Brown Book Group
Publication Date: 15th January 2013
Goodreads Summary: Schuyler Van Alen is running out of time. The Dark Prince of Hell is storming the Gates of Paradise, intent on winning the heavenly throne for good. This time he has his greatest angels by his side, Abbadon and Azrael—Jack and Mimi Force, as they are known in the Coven.
Or so he thinks. Even as Lucifer assigns Jack and Mimi the tasks of killing their true loves, the Force twins secretly vow to defeat the Dark Prince once and for all. But how far will Mimi and Jack go to conceal their real loyalties?
Meanwhile, former vampire Bliss Llewellyn has joined forces with Lawson, the greatest wolf of the underworld, to free his people from their imprisonment in Hell. As they struggle against impossible odds, an ancient message, woven into the very fabric of time, reveals just how much depends on the success of their mission.
Lucifer seeks the key to the Gate of Promise, and when Schuyler is taken captive and delivered straight to Hell, she must make an unthinkable choice—the same one the archangel Michael was forced to make during the Crisis in Rome. Will Schuyler find the strength to do what he could not?
The epic, heartbreaking Blue Bloods series comes to a close with this final novel about staggering courage, unbearable sacrifice, and the immortality of true love.
Book Review
At the end of Misguided Angel, Jack and Mimi Force bargained their souls with the Dark Prince, Lucifer, to have their bond severed so that they could be with the people they truly loved. Both Jack and Mimi are reformed Dark Angels but it wasn't hard for them to convince people that they'd turn back to the dark, making it quite easy to act as double agents.
Whilst at first it seems as if Jack and Mimi have got it all sorted and will thwart Lucifer from within his own ranks, it soon becomes apparent that Lucifer has been playing them all along and that things are much more complicated than they seemed.
Meanwhile, Bliss has become part of the wolf pack her mother told her seek out and they work tirelessly to repair the broken passages of time so that they can stop Lucifer's plans to storm the Gates of Paradise. Schuyler, Oliver and Kingsley are still working together to carry out the tasks assigned to them which leads them all on different adventures.
With the vampire coven going into hiding, the characters are scattered all around the globe and in different worlds. As a result, it seems like there are several separate plot strands that are only loosely connected to each other and it's not until the very end until they come together. I think I would've preferred it if there had been greater interaction between the characters as a lot of them were working by themselves for a great deal of the book. I also would've liked more emphasis on Lucifer and his intentions because although he has been a threat for most of the series, I don't feel that he played a particularly big role.
As with the other books, each chapter is written from the perspective of one character and they alternate randomly. In Gates of Paradise, we see events mainly from the eyes of Schuyler, Mimi, Bliss and a previous incarnation of Gabrielle (flashback). Obviously all of these characters are heavily involved in the plot so we get a good look at everything that's going on, but I feel that it would've been better if we'd also had a glimpse into the minds of Jack, Oliver, Kingsley and even Lucifer.
What I loved about Gates of Paradise is that there were so many plot twists that I had no idea what was going to happen next as I turned every page. This book had a much faster pace than the previous books and although it took me a short while to get into it, once I had, I sped through it. In some ways, the finale itself was pretty predictable, but in others it wasn't.
If you've read the previous books in the series then you can probably guess what's going to happen in the end, but there were some extra things that happened that I didn't foresee. At the end of this book, my mouth was gaping wide as I was really surprised at some characters' endings so this book has action and suspense all the way to the very end. There were some really emotional parts where issues of justice and sacrifice were considered which made this book so much better than your average YA.
I found with the previous books with this series that they were very hit and miss so I was worried that Gates of Paradise would be a miss. Thankfully, that wasn't the case and it was an absolutely explosive ending to a brilliant series. So many things happened in this book and Melissa de la Cruz did a great job of thing up all the loose ends from previous books without making this feel rushed. All in all, I'd highly recommend the Blue Bloods series as it is highly exciting with romance, intrigue, action and drama.
Many thanks to Little Brown for providing me with a review copy!
If you like the sound of this, check out my reviews for:
Masquerade
Revelations
The Van Alen Legacy
Keys to the Repository
Misguided Angel
Bloody Valentine (novella)
Lost in Time

Stay up to date with What's Hot?
Bloglovin' / Instagram / Facebook / Twitter / Pinterest
[jetpack_subscription_form]