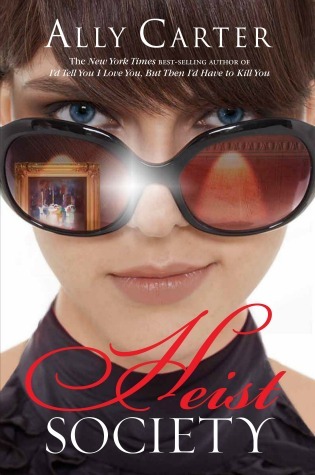 Title: Heist Society
Author: Ally Carter
Genre: Young Adult
Publisher: Orchard Books
Publication Date: 9th Feb 2013
Goodreads Summary: When Katarina Bishop was three, her parents took her on a trip to the Louvre…to case it. For her seventh birthday, Katarina and her Uncle Eddie traveled to Austria…to steal the crown jewels. When Kat turned fifteen, she planned a con of her own—scamming her way into the best boarding school in the country, determined to leave the family business behind. Unfortunately, leaving "the life" for a normal life proves harder than she'd expected.
Soon, Kat's friend and former co-conspirator, Hale, appears out of nowhere to bring Kat back into the world she tried so hard to escape. But he has a good reason: a powerful mobster has been robbed of his priceless art collection and wants to retrieve it. Only a master thief could have pulled this job, and Kat's father isn't just on the suspect list, he is the list. Caught between Interpol and a far more deadly enemy, Kat's dad needs her help.
For Kat, there is only one solution: track down the paintings and steal them back. So what if it's a spectacularly impossible job? She's got two weeks, a teenage crew, and hopefully just enough talent to pull off the biggest heist in her family's history–and, with any luck, steal her life back along the way.
Book Review
So after a brief pause, I'm back to reading Ally Carter Books. I finished all the books currently published in the Gallagher Girls series a few weeks ago and absolutely loved them so I couldn't wait to get started on her other series, Heist Society, which many people say is better.
Heist Society starts with Kat getting expelled from boarding school for a prank involving the headmaster's car and a water fountain, the only thing is, whilst she is perfectly capable of pulling off said prank, this time round she is genuinely innocent.
As she waves goodbye to her school, she gets into a car and finds herself sat next to her childhood friend, a very hot childhood friend, Hale. Hale's got a mission for Kat and she ends up sucked back into the world of lying and thieving that she tried so desperately to escape from three months ago.
Kat's dad is in trouble; a bad guy thinks that he stole his paintings and now he's out to get him unless if the paintings are returned to him within two weeks. After many failed attempts to persuade Arturo Taccone that her father isn't the man behind the theft of his paintings, Kat decides that the only way forward is to steal the paintings back from whoever stole them in the first place.
For someone like Kat, this should be easy, except the paintings weren't stolen by any ordinary thief, they were stolen by the Visili Romani. Kat enlists the help of her other thieving friends to help recover the stolen paintings before Arturo Taccone comes for her father.
Unlike the Gallagher Girls series, Heist Society is written in the third person so we don't get any real insight into the inner workings of the characters but I felt like this style suited the story a lot more. Heist Society is definitely a lot more mature than the Gallagher Girls series and this is probably because it's not set in a school and although the main characters are children, they seem to be doing adult things. Kat, although 16 years old, has quite a mature way of thinking as shown by the fact that she tried so hard to leave a life of thieving behind and find her own, normal way of living.
None of the teenage characters attend school, though they don't really need to because they are already equipped with all the skills they need to survive and live comfortable lives: thieving skills. The stakes are also really high in this book which doesn't leave much room for joking around, though Kat is a very witty character. This doesn't detract from the book in any way and nor does it mean it's a serious book, it's just that the tone is quite different to Ally Carter's other series.
I was really afraid that there was going to some sort of insta-love between Hale and Kat in this book but thankfully there wasn't any of that and instead there were subtle hints at what could blossom later. I don't think there's anything more annoying in a YA book than two characters who bump into each other and BAM they're in love. Hale and Kat are good friends though it's clear that they could be so much more than that and I could really feel the deep connection that the two of them have.
Whilst I read the Gallagher Girls series for the characters, I read Heist Society for the story. The plot is brilliantly constructed and keeps you reading non-stop from the very beginning. There are some plot twists and turns and there weren't any real moments where I thought something was completely stupid as you often do when reading young adult spy/thief novels. The whole story was really cleverly pieced together and because it's written from the third person, we don't really have any indication of who's planning to do what, when, where and why, which all adds to the suspense and intrigue.
The one and only thing that bothered me about this book, was that at the end of it there was a pretty big lose end that Ally Carter failed to tie up and as this series is supposedly made up of stand-alone books, rather than a continuous plot, I don't think we'll ever find out this one crucial piece of information.
All in all, Heist Society was so much better than I expected it to be and I read it all in one sitting within a few hours. In my opinion, it's a lot better than Ally Carter's Gallagher Girls series, but I think that's because Heist Society is aimed at a slightly older teen audience which I fit into. It was really easy to get into the story which is fast-paced and action packed and I didn't really see the ending coming. I believe Ally Carter said that the Heist Society books would act as standalone books sort of like the Nancy Drew series so I have no idea what to expect from Uncommon Criminals (book #2) but I'm eager to start reading it!
Check out my reviews of the other Ally Carter books:
I'd Tell You I Love You But Then I'd Have To Kill You
Cross My Heart and Hope To Spy
Don't Judge a Girl by Her Cover
Only the Good Spy Young
Out of Sight Out of Time
United We Spy 
Uncommon Criminals
Perfect Scoundrels

[jetpack_subscription_form]