Edinburgh is one of the most popular destinations in the UK for Harry Potter fans. It's second to only to London when it comes to Harry Potter locations. But where does the Harry Potter/Edinburgh connection come from?
JK Rowling lived in Edinburgh from 1993. At the time, she was a budding author and single mum who struggled to make ends meet.
She wrote a great deal of Harry Potter in Edinburgh's cafes. However, this was not so she could escape an unheated flat, as she emphatically told reporters in an interview in 2001. As she said, "I am not stupid enough to rent an unheated flat in Edinburgh in midwinter".
These cafes now celebrate the fact that this successful author wrote there when she was just getting going with Harry Potter. This has turned these cafes in tourist attractions of sorts.
As such, a large number of cafes have hopped on the gravy train, claiming that JK Rowling once wrote one word of Harry Potter on their premises.
The situation was so riddikkulus that some cafes now proudly hang signs saying "JK Rowling did NOT write Harry Potter here".
NB. It's worth noting that there are no actual Harry Potter filming locations in Edinburgh. It is simply a town that JK Rowling lived in whilst writing some of the series and where she drew some of her inspiration for the books from.
Want more Harry Potter? Check out these posts:
Harry Potter in York
Harry Potter in Lacock
Harry Potter in Oxford
The Elephant House
The Elephant House is the most popular Harry Potter cafe in Edinburgh and attracts droves of tourists each day. It calls itself the "birthplace of Harry Potter" and, whilst this isn't strictly true, it is still the most famous Harry Potter cafe in Edinburgh.
As you near The Elephant House, you'll see lots of tourists standing outside taking pictures, some even risking standing in the middle of the road to get that shot!
Obviously, don't do this. I watched a man get honked at by an angry bus driver and it was a near miss. I arrived just after 9am when it opened, and there were already a number of keen visitors.
By 9:30am, the cafe was full and people were queuing for a table. JK Rowling was often seen writing in the back room of The Elephant House so get here early and nab a seat there if you want to do as she did.
I ordered a pain au chocolat and a vanilla "hot moo" (i.e. hot milk), which were both adequate, but nothing special.
If that's the standard of all their food and drink then this cafe is very much about the atmosphere and the JK Rowling connection and less about the food.
It wasn't that cheap either with the two of these setting me back almost £7.
YOU MIGHT ALSO LIKE: A Book Lovers' Guide to Edinburgh
Upon entering the cafe, I learnt exactly why it was called "The Elephant House". There are over 600 model elephants in the cafe!
The cafe is known for its charitable donations to third-world countries and when the receipt is presented to your table, so will a little paper donation envelope. They fundraise for a number of different humanitarian organisations over the year, with the current one being Children International.
There's not much to see in relation to JK Rowling inside the main cafe. There are just some newspaper cuttings and some information on one wall of the cafe.
However, as soon as you enter the loos, you'll see just how popular this place is with Potter fans. Every inch of the toilet's walls are covered in graffiti relating to Harry Potter.
There are quotes, deathly hallows symbols, thank you messages for JK Rowling and more.
One last thing – JK Rowling isn't the only famous author with a connection to The Elephant House. Ian Rankin, one of Scotland's current most popular authors, mentions the establishment a number of times in his works.
Address: 21 George IV Bridge, Edinburgh EH1 1EN
Opening Hours: 8am – 10pm (9am weekends)
Website: elephanthouse.biz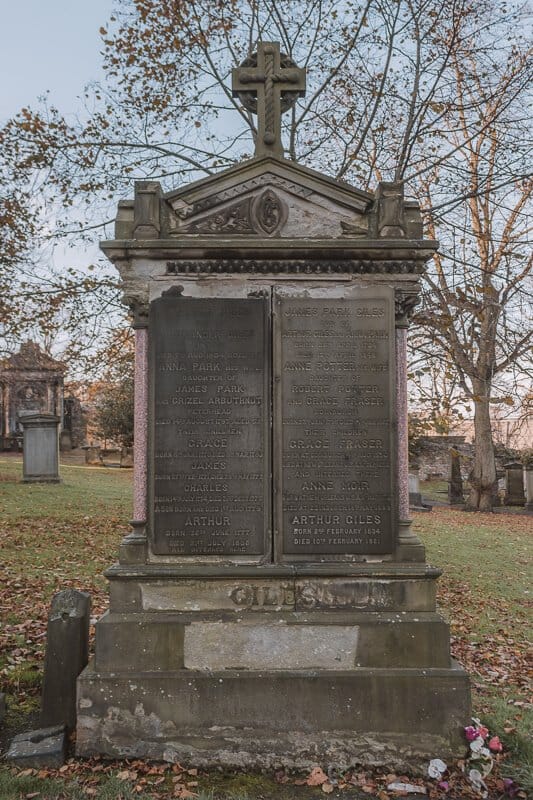 Greyfriars Kirkyard
Greyfriars Kirkyard is the graveyard attached to Greyfriars Kirk (or church). It's a few minutes away from The Elephant House, where JK Rowling often sat and wrote, and it's clear that this graveyard had an impact on the characters of her story.
In the graveyard, you'll find the graves of one William McGonagall, Anne and Robert Potter, Thomas Riddel, Elizabeth Moodie and Louise Scrimgeour. Sound at all familiar?
The great thing is that the graveyard is open 24/7 so you can visit whenever you want. Though visiting after dark may be a little haunting…
For more information on exactly where you can find these graves, check my detailed post on the Harry Potter graveyard.
Address: 26A Candlemaker Row, Edinburgh EH1 2QE
Opening Hours: 24/7
Website: greyfriarskirk.com/visit/kirkyard
Spoon
Spoon was once a cafe called Nicholson's, that turned into a Chinese restaurant, before turning back again into a restaurant called Spoon in 2009.
When the cafe was still called Nicholson's, JK Rowling wrote some of the earlier Harry Potter chapters here. In fact, it's thought that she wrote here more often than she wrote at The Elephant Cafe, despite the fact the latter is much more well known.
In an interview with the BBC in 2011, she spoke about Nicholson's and said:
"So this is Nicholson's. Where I wrote huge parts of the book. This was a really great place to write because there were so many tables around here that I didn't feel too guilty about taking a table up too long and that was my favourite table. I always wanted to try and get that one because it was out of the way in the corner.
"It was just great to look up when you were writing and stop and think about things and be able to look out on the street which was quite busy. They were pretty tolerant of me in here partly because one of the owners is my brother-in-law. And I used to say to them "Well you know it gets published, and I'll try and get you loads of publicity" and it was all just a big Joke. No-one ever dreamt for a moment that was going to happen."
Click here to watch the full interview on YouTube. She speaks about this cafe from 17:22 onwards.
Spoon, the restaurant that stands on the first floor of the building today, is a large, instagrammable open space offering breakfast, brunch, lunch and dinner.
It's a beautiful space that has been designed to look like the inside of a home and I'd highly recommend a visit for brunch or otherwise.
NB. The small plaque that says JK Rowling used to write here is actually attached to the green building on the corner of Drummond Street.
Address: 6A Nicolson St, Edinburgh EH8 9DH
Opening Hours: 10am – 10pm Monday to Saturday; 12 – 5pm Sunday
George Heriot's School
George Heriot's School is a private secondary school for girls and boys in the heart of Edinburgh. It also looks distinctly like another, much more famous, secondary school for wizards. Of course, I'm talking about Hogwarts School for Witchcraft and Wizardry.
The school is close by the other Harry Potter sites in Edinburgh so it is believed that this school may have influenced Rowling's vision of Hogwarts. She herself has said that Hogwarts is located in Scotland.
The turrets of the school are visible from inside Greyfriars Kirkyard too if you're looking up over the wall in the Flodden Wall area.
RELATED: A Guide to the Harry Potter Graveyard in Edinburgh
You can see the castle-like front gate on Lauriston Place and you'll see the school's large turrets behind.
Although the school is very square and the Hogwarts we recognise from book covers and films is rather more rounded, there are numerous turrets here, just like Hogwarts.
Indeed, many buildings dotted around the city have turrets, often rounded ones, so it seems likely that the appearance of Hogwarts school was drawn from the beautiful buildings of Edinburgh.
George Heriot's uniform also involves a dark blue and white striped scarf, which looks a lot like a Ravenclaw scarf if you ask me!
NB You cannot enter the grounds or the school, but it's large enough that you can admire it from afar.
Address: Lauriston Place, Edinburgh EH3 9EQ
Victoria Street
If you're approaching Victoria Street from the east of the city then the first thing you'll see is a turquoise facade for John Kay's books. To the right of the shop are some words about this street, this shop and Harry Potter.
It reads:
Welcome to Victoria Street
Built between 1829 and 1834

Scotland's most photographed street and believed to be JK ROWLING'S inspiration for DIAGON ALLEY.

An Old Book Shop has traded from this site for over four decades.

With shelves stacked to the ceiling, was this the original Flourish & Blotts?
JK Rowling has never referred to this street as the inspiration for Diagon Alley and, to be honest, it seems most old English towns that JK Rowling has ever visited claim that they have a road that "inspired Diagon Alley". Another popular myth is that it was inspired by The Shambles in York.
RELATED: Harry Potter in York
Whether or not it did inspire the magical shopping street, Victoria Street is gorgeous and an important addition to any Edinburgh itinerary.
Each shop has a different coloured facade so it very much reminded me of Notting Hill in London.
As for John Kay's, this is a shop selling quite random and quirky objects, including books, prints, wooden models. I can definitely imagine Arthur Weasley going nuts in here.
It's worth poking your head in to see if you pick up any cool souvenirs or a nice vintage edition but this is not a Harry Potter store, nor an extensive bookshop.
Address: Victoria Street, Edinburgh, Scotland, EH1 2HG
The Boy Wizard
Since Harry Potter is now one of the main drivers of tourists to this city, lots of tourist shops will sell Harry Potter merchandise.
There are even lots of dedicated Harry Potter shops in Edinburgh, the most popular being The Boy Wizard.
There are a couple of branches in Edinburgh, there's one on Victoria Street, which is the biggest and best. There's also one on the High Street and one in the airport!
There's also a branch of The Boy Wizard in York, a city with four Harry Potter shops despite the fact that there isn't really much of a Harry Potter connection there! Click here for more on Harry Potter in York.
Address: 1 Victoria St, Edinburgh EH1 2HE
Opening Hours: 8am – 10pm weekdays; 10am – 6:30pm Saturdays; 10am – 5:pm Sundays.
Museum Context
Potter fans will stop in their tracks as they walk past Museum Context as they might actually believe they're staring into the shopfront of a magical wares shop on Diagon Alley (or maybe Knockturn Alley!).
In fact, Museum Context is so popular with Potter fans that there's sometimes a queue to get in!
It's a store spanning several stories that specialises in unusual gift ideas and a particularly large collection of official Harry Potter merchandise. You can get everything from Hogwarts uniforms to Harry Potter cat cards.
The exposed brick walls, narrow staircase and the fact that there's wizarding merchandise to be found in every nook and cranny from floor to ceiling makes this feel like it really is from another world.
There's also the opportunity to sit at a wooden desk in Harry Potter robes with a wand and Fawkes the Phoenix. Photos are encouraged.
Outside the shop there is a blue plaque that reads:
"Founded in 1873, ROBERT CRESSER'S BRUSH SHOP occupied No. 40 for 131 years. Harry Potter fans believe this magical street gave J.K. ROWLING the vision for Diagon Alley. With original Victorian fixtures full of dusty boxes and broomsticks – was this little shop the inspiration for Ollivanders?"
Address: 40 Victoria St, Edinburgh EH1 2JW
Opening Hours: 10am – 7pm every day
Traverse Cafe
Traverse Cafe is one of Jk Rowling's lesser-known haunts but she wrote there frequently so it deserves the label Harry Potter cafe just as much as the other two establishments on this list.
JK Rowling published some answers to popular questions on her website back in 2018, which mentions Traverse Cafe in Edinburgh. Funnily enough, this is where she met John Tiffany, director of the Cursed Child, way back in the 90s. Neither of them predicted that they'd be working together on a highly successful play two decades later!
Tiffany describes how he came to know JK Rowling in an interview in the Scottish Daily Record in 2015:
"I first met Jo years ago when we didn't know who each other was. I had just started at the Traverse in Edinburgh, and now and again I would see a woman with a pram writing in longhand in the cafe. She'd write in Nicholson's, The Elephant House and the Traverse cafe.
"We knew each other to nod at. I'd be having meetings with writers and actors and I'd see her. Eventually we'd say hello to each other and a year later – bam! Then I realized that's what she was doing.
Address: 10 Cambridge St, Edinburgh EH1 2ED, UK
Opening Hours: 8am–4pm Monday to Friday,
Website: www.traverse.co.uk
The Balmoral
The Balmoral is a magnificent 5-star hotel in Edinburgh. JK Rowling stayed in a suite here when she wrote the last few chapters of Harry Potter and the Deathly Hallows.
It seems quite fitting that she wrote both the first and the last chapters of Harry Potter in Edinburgh.
A quick comparison of The Elephant House and the luxury Balmoral demonstrates just how far JK Rowling has come. It's a very impressive success story!
The JK Rowling suite is, predictably, really expensive. Like really, really expensive. Like £1500/night kinda expensive.
Sadly that means it's unlikely you'll be able to stay there yourself, but you can enjoy (drinks in the bar/food in the hotel?)
Address: 1 Princes St, Edinburgh, EH2 2EQ
Website: roccofortehotels.com/hotels-and-resorts/the-balmoral-hotel/
The Cauldron
After finding great success in London, The Cauldron opened up shop in Edinburgh and is a must for Harry Potter fans.
The Cauldron is an immersive and interactive cocktail making experience that has been inspired by fantasy worlds such as Harry Potter.
Although they're not officially affiliated with the Harry Potter brand, it's clear that they drew heavily from Jk Rowling's world.
You can pretend you're in Snape's potions class as you mix your own potions, wear wizard's robes and cast spells with your wands.
Tickets cost £29.99 at off-peak times, £24.99 at peak times and this includes a welcome drink, two cocktails, and the interactive experience.
Read all about my experience at The Cauldron in London
Address: 57a Frederick Street, Edinburgh, EH2 1LH, UK
Website: https://thecauldron.io/edinburgh
Where to Stay in Edinburgh: Harry Potter accommodation
Canongate Luxury Homestay has only one double room available and if you're a Harry Potter fan, you'll want to book this for your Edinburgh trip. The inside takes inspiration from Harry Potter and gives off a cosy, magical vibe. There are tiny portraits on the walls, bookish wallpaper, tiny vials of potions, owl figurines and more.
The bedroom contains an enormous four-poster king-size bed with red and gold tapestry and Gryffindor tapestries hang from the walls. You'll feel like you're in the Gryffindor common room! The dressing room is designed to look like a carriage on the Hogwarts Express and it's even got a model train inside.
This accommodation is a must for Harry Potter fans but as there's only one room you'll want to snap this one up quick!
Check availability and book a stay at the Harry Potter apartment now.
If you'd prefer to stay in a hotel then The Witchery may be a good option. Whilst not strictly inspired by Harry Potter, it is a boutique hotel with a unique and ornate decor that feels magical. With four-poster beds, tapestries, old books, gilded mirrors and more, the ostentatious decor will take you back to high society in the 18th Century.
The Witchery is right by Edinburgh Castle making it the ideal place to explore Edinburgh from.
Check availability and book a stay at The Witchery now.
Love this post? Save and read again later!
There's plenty more Harry Potter content on whatshotblog.com. Browse the below posts for some more Harry Potter travel inspiration:
Magical Things to do at the Wizarding World of Harry Potter
Harry Potter Filming Locations in Oxford
Harry Potter Filming Locations in Lacock
Guide to Harry Potter in York
Godric's Hollow Filming Location – Lavenham

Best Things to Do in Edinburgh
Bookshops in Edinburgh
Day Trips from Edinburgh
Literary Tour of Edinburgh