Looking for books like The Book Thief? Keep reading for other books about WWII or books that are similarly moving!
The Book Thief is a memorable, heartbreaking novel about the human cost of World War II. A great book for both adult and YA readers, it's a beautiful and intense book that is absolutely unputdownable.
If you liked The Book Thief, you might be searching for your next read. The following nine books share a lot of similarities: they're set either during a war or deal with the aftermath in some capacity, and they focus mostly on human relationships and the many ways in which a war can change a person.
These are moving books with a lasting emotional impact. If you've been searching for books similar to The Book Thief, add these to your TBR!
Just like The Book Thief, The Kite Runner shares a similar theme of heartbreaking injustice. It's the kind of book that will make you furious, but only because you're so invested in the characters.
The story of a friendship between a rich, privileged boy and the son of a family servant. It is a personal story of a relationship. It also manages to capture a country in the middle of destruction and the very human fallout.

It's a medium-paced novel and manages to strike the perfect balance between character and plot.
It may leave you an emotional wreck, but it's an important read and will stay with you for a long time afterwards.
Buy The Kite Runner: Amazon | Book Depository | Blackwells | Waterstones
Like The Book Thief, this will appeal to both YA and adult readers, although it's technically classed as YA. It follows 'Verity', the name given to a girl after she miraculously survives a British spy plane crash.
Captured by the Gestapo in Nazi-occupied France, you'll feel a rollercoaster of emotions as you discover what happens to Verity in captivation.
The plot unfolds in an intricate and deliberate way, giving you small pieces of Verity's past, her friendship with the plane pilot Maddie, and other secrets she trades.
It's a difficult read at times, but it has humourous moments, and Verity is an excellent female character. She's strong and funny, and you'll root for her as she fights for her survival.
Buy Code Name Verity: Amazon | Book Depository | Blackwells | Waterstones
A modern classic, The Boy in the Striped Pyjamas is by no means an easy read. If you haven't heard of it, it follows the unlikely friendship between two very different boys, and you'll fall in love with both of them as they get to know each other through a barbed-wire fence.
Like The Book Thief, this will probably make you cry. While it centres around a 9-year-old boy, it's definitely not for children to read.
It's touching and emotional, and perhaps slightly removed from the reality of concentration camps, but it's a beautiful read that captures how wars can impact innocent children.
Buy The Boy in the Striped Pyjamas: Amazon | Book Depository | Blackwells | Waterstones
This one isn't for the faint-hearted. It has some dark, shocking moments, so be prepared for that before you go in.
From the storytelling queen herself, The Storyteller follows Sage, a baker dealing with the impact of grief, and her unlikely friendship with Josef Weber, whom she meets in a grief support group.
As Josef begins to talk about his past, he decides to unveil a shocking secret to Sage, which throws her into a moral quandary.
It shows, yet again, the many heartbreaking stories from WWII. It's also an excellent choice for book clubs, as it throws up a lot of interesting discussions around family and forgiveness.
Buy The Storyteller: Amazon | Book Depository | Blackwells | Waterstones
If you like The Book Thief, you'll probably love All the Light We Cannot See. It's a bestseller for a reason: it's captivating, unputdownable, and heartfelt.
It follows the life of Marie-Laure, a small girl who loses her eyesight at the age of 6, growing up in Paris. It also follows an orphan, Werner, and his journey through the Hitler Youth.
The two stories converge in a clever way, and it's beautifully written, although the prose is very descriptive, and it moves at a slightly slower pace than some of the others on this list. It's a haunting read, and well worth investing time into.
Buy All The Light We Cannot See: Amazon | Book Depository | Blackwells | Waterstones
If you love to follow a character across a whole lifetime, you'll probably enjoy this one. Cyril Avery is adopted, and his life is a long journey to find out who he really is, and where he comes from.
Cyril's quest to find his own identity spans many years (and several countries), starting in the aftermath of WWII and developing over time. It's an extremely moving, emotional read, and the poignant ending is perfect.
It's a long one at over 500 pages, so if you love a chunky book, this is one to check out!
Buy The Heart's Invisible Furies: Amazon | Book Depository | Blackwells | Waterstones
This is a two-parter, with the follow-up book (The War I Finally Won) finishing the story. It's a children's book, but it's beautifully written, and the moving story is perfect for adults too.
It's also a great one to share with a 9-12 year old child. It follows Ada and her little brother, Jamie, as they leave London for their safety.
The relationship between Ada, Jamie, and Susan (the woman who takes them in) is touching, and there are some lovely moments as they adjust to their new lives.
As you may expect, there are some sad moments, but it's ultimately an uplifting story about unlikely relationships formed in harrowing times. It's sensitively written, and just right for the 9-12 age bracket.
Buy The War That Saved My Life: Amazon | Book Depository | Blackwells | Waterstones
If you want to know what it was like to live through WWII, there aren't many better sources than Anne Frank's diary.
When Anne's family is forced into hiding, she keeps a diary, and it's a funny, sharp, interesting account of what it was really like to live in fear and uncertainty.
It's a book that everyone should read, full of heart and real humanity, and it is surprising to hear Anne talk in an honest and reflective way about herself and her family.
Obviously, knowing what happened to Anne makes this an incredibly sad book to read, but her words have touched millions of people, and it's absolutely worth a read.
Buy Diary of a Young Girl: Amazon | Book Depository | Blackwells | Waterstones
A recent bestseller, The Tattooist of Auschwitz takes a harrowing look at an ordinary person caught up in events that are beyond his control.
It follows Lale Sokolov, a Jewish man, forced to tattoo other prisoners. It's a story about bravery in horrific circumstances.
It's a shorter read, and in terms of prose, it's pretty easy to fly through this one. It's also not too graphic or brutal, making it a good read for teens if they want to avoid some of the more harrowing books set in WWII. It's a truly touching story of love and human perseverance.
Buy The Tattooist of Auschwitz: Amazon | Book Depository | Blackwells | Waterstones
If you've been looking for books related to The Book Thief, hopefully, these will appeal to you!
If you liked this post, check out these:
Books Like Gone Girl
Books Like The Little Prince
Books Like Where the Crawdads Sing
Books Like Little Fires Everywhere
Books Like Eleanor Oliphant is Completely Fine
Books Set in Paris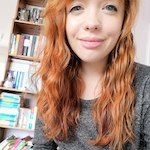 Megan Bidmead
Guest writer
Megan is a freelance writer based in Somerset, England. When she's not writing about books, videogames, and pop culture, she's running around after her two kids and trying to squeeze in the occasional walk in the countryside.