Finding good books for 5 year olds can be tricky. They're starting to grow out of some picture books, but they're not quite ready for longer chapter books, either.
They're usually learning to read at school, but the books they consume are designed to help them master their phonics skills, rather than providing them with a good story.
Luckily, children at this age still love a bedtime story, and with life becoming a lot busier once they start school, books offer a great moment of reconnection for parents and their children.
The following list of reading books for 5 year olds is engaging enough to keep children happy, while still being colourful, interesting, and fun to read.
Some of them are pure fantasy escapism; others offer meaningful advice for young children about how to process their worries and emotions or help them with big life changes.
If you're looking for a gift for a 5 year old child, you can't go wrong with a book, and there are some lovely books on this list to choose from.
Shopping for children's books is always a joy, and children's books for 5 year olds tend to be beautiful to look at, too!
10 Best Books for 5 Year olds
The Kitty series of books, written by Paula Harrison and illustrated by Jenny Lovlie, are simply beautiful to look at.
The adventures of the superhero Kitty and her cat companions are gorgeously imagined in a colour palette of orange, black, and white, making the books instantly recognizable on the shelves (ideal if you're shopping for the next one!).
If you have a kid that loves to start collections, these books are a great idea. With a gutsy, brave female protagonist, the Kitty books are both fun and inspirational.
Kitty has some amazing adventures, and she shows courage, fights against injustice and has a ton of cute animals to help her on her quests.
Kitty and the Tiger Treasure sees Kitty framed for a crime she hasn't committed. But who stole the Golden Tiger Statue from the museum, and can she find the real culprit before it's too late?
I'd recommend these books to all adventure-loving girls and boys, especially those who have a soft spot for cats.
Holly Webb is an excellent children's author, and Puppy Tales is a collection of three classics: Alfie All Alone, Sam the Stolen Puppy, and Max the Missing Puppy. All, as you can probably tell, about dogs in some kind of danger!
While they're all pretty similar in terms of the storylines (so perhaps not the most fun for adults to read back-to-back), they're cute, well-written books, and the perfect choice for animal-loving kids. They have just enough drama to keep kids engaged, with reliably happy endings every time.
At five, children are able to listen to longer stories, and these are gentle introductions to chapter books if you're trying to transition from picture books. This collection would also make a great gift for kids who are dog lovers.
It's worth noting, too, that Holly Webb's books are great on Audible. The narration is engaging, so if you need something to keep your child occupied on a long car journey, Webb's books are worth a try.
Meet The Twitches is the first book in the Teacup House series, and it's a super cute one. Stevie is a little girl with a collection of tiny toy rabbits, who live in a teacup house. The twist is, the toys come alive when Stevie isn't looking!
Five year olds love the work of Oliver Jeffers, and There's a Ghost In This House is a slightly spooky, cheeky book to enjoy together.
A young girl gives the reader a tour of her house, but there's a twist: she's pretty sure there are ghosts, but she can't see them.
Turning the thinner pages will 'reveal' the ghosts, which is hilarious from a child's perspective.
The ghosts are funny and silly rather than scary, and children love pointing them out as the girl wanders from room to room, completely unable to see them herself.
It's a beautiful book, and children and adults will enjoy reading it together. It's perfect for kids who have already exhausted some of Jeffers' work, as the transparent pages and photography offer a slightly different experience.
It still contains Jeffers' iconic character designs and sense of humour, which is great from a grown-up perspective, but it's a little lighter in tone than some of his classic works (like Lost and Found or How To Catch a Star).
Five year olds are more likely to worry than younger children. This is normal in terms of development but can come as a surprise to first-time parents.
As children settle into school, navigate friendships, and learn about 'big' concepts, their minds can become overloaded with worries, from losing their first tooth to the idea of monsters under the bed. The Huge Bag of Worries is designed to help children to deal with these feelings in a healthy way.
In the story, the main character Jenny keeps collecting worries (depicted in the book as small, fuzzy monsters). She keeps them in the bag, but the bag keeps getting heavier, and lugging them around starts to interfere with her day-to-day life. With her parents caught up in their own worries, Jenny isn't sure where to turn.
Luckily, a neighbour is there to help her process the worries one by one. Does Jenny need to keep them all, or can she throw some of them away? Do all these worries belong to her, or can she give them to someone else?
It's a great illustration of how to deal with worries and can help facilitate a conversation between parents and their anxious children.
From a design perspective, the Isadora Moon series of books are stunning. With a black, pink, and white colour palette, they're striking to look at, and they're packed with illustrations.
The main character, Isadora Moon, is a half-fairy, half-vampire. She's trying to fit in at school, but it's difficult: her home life is unusual, after all, and her parents sometimes don't understand regular social etiquette.
Isadora is a fun character and watching her navigate her family life is fun. In Isadora Moon Goes Camping, Isadora encounters some mermaids, only to run into some problems involving a magic comb.
These stories for 5 year olds are perfect for those looking for a little bit of magic, and each one has an important life lesson for Isadora to learn.
(As a side note, older children may enjoy reading these alone once their reading skills become more developed. The chapters are short, and the words aren't too complex.)
If your child likes sticker books, and you want to gently transition them into chapter books, this is a great series to try.
Each Usborne Sticker Dollies book includes a sheet of stickers, which children can use to dress up the main characters, making the book slightly more interactive for little ones. It also includes a story revolving around Grace, Lily, and Holly, three magic dolls with interesting powers.
Unicorn Rescue is a sweet story about a panicked unicorn on a rampage. Lily, Grace, and Holly must step in to save the day, using their unique powers to help.
It has a nice message about using your own strengths to help others and how to cooperate with others, and it's an exciting adventure for younger kids, especially those who love anything to do with fairies and unicorns. Usually found on supermarket shelves, these books are a wholesome treat!
The books are gorgeously illustrated and each page is bursting with colour, so they're a great introduction to chapter books – there's a lot to look at, and should be appealing even for children with shorter attention spans.
Stevie lives in a tower block apartment with her mother, but they have to move away: while they're moving to a cottage with more space, Stevie is unsure of how she will cope with the change.
During the move, the rabbits accidentally tumble out of the moving box, and they have to find their way home. It's a sweet story with a relatable main character and a good choice for a kid going through some big life changes.
Children love to spot characters in a story that 'relate' to them in some way, and the Teacup House Series is great for this.
Children at this age may be grappling with some big feelings. It's important to teach children from an early age how to recognise and process those feelings, which can be difficult.
Feelings by Libby Walden and Richard Jones is a great 'bedtime book', and can help to prompt some useful conversations in daily life.
In this book, each feeling has its own landscape. Brave shows the main character standing on a mountaintop; Anger sees him facing a volcano.
It beautifully depicts each emotion and how it might feel, using descriptive words that children should be able to understand and recognise.
If you have a child struggling to understand their own emotions, this is an excellent jumping-off point to help their emotional development.
It's also a great book to leaf through if children are recovering from feeling some big emotions and want to express how they were feeling at the time.
Many five year old children are going through a significant life change at this age. Starting school is a big step, and it can be daunting.
If you know a child who is about to start school (or a child who is struggling to settle into their new routine), books can help to make them feel better.
Come To School Too, Blue Kangaroo! is a sweet story that follows the main character Lily and her best cuddly toy, Blue Kangaroo.
Lily is very nervous to start school, so she takes Blue Kangaroo with her to make her feel better.
Unfortunately, she ends up leaving Blue Kangaroo behind at pick-up time. Blue Kangaroo has some amazing fun overnight in the classroom, and when she comes to collect him the next day, Lily understands that school is actually fun after all.
It's a sweet story for anxious kids, and it makes a great gift for children about to start their big school adventure. Plus, it's a good introduction to the Blue Kangaroo series, all of which are very sweet stories to enjoy at bedtime after a long day at school.
Princess Ellie is super into ponies! When Meg, the palace groom, is hospitalised with an injury, Ellie decides that she can run the stables all by herself.
It turns out that looking after horses is actually much harder than she ever could have anticipated, and things take a turn for the worse when Moonbeam, one of Ellie's favourite ponies, is injured. How will Ellie cope with all the responsibility she has to face?
The Pony-Mad Princess books offer a little moment of escapism for 5 year olds: it allows them to imagine themselves as princesses, living in a castle, with their own stables to visit. A dream come true for many kids at this age!
They're also fun, well-written adventures with some exciting twists and turns. Ellie has to learn a lesson in each book, and in this particular entry in the series, she learns all about the importance of hard work.
–
Hopefully, this has helped you to find the best books for five year olds. Whether you're looking for a gift for a little one in your life, or you need some bedtime-story inspiration, there's something on this list for every child to enjoy!
If you liked this post, check out:
Best Books for 1-year-olds
Best Books for 2-year-olds
Best Books for 3-year-olds
Best Books for 7-year-olds
Books Like The Little Prince
Books Like Diary of a Wimpy Kid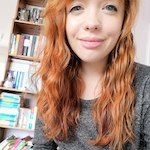 Megan Bidmead
Guest writer
Megan is a freelance writer based in Somerset, England. When she's not writing about books, video games, and pop culture, she's running around after her two kids and trying to squeeze in the occasional walk in the countryside.