Are you a sucker for teen romance books? These are 20 of the best that will make you feel all mushy inside!
Teen romance books will always be a favourite genre of mine. I just love reading about love! Especially first love. These young adult romance books are some of the best and most heartwarming books out there and I'd highly recommend them all.
What's more, this selection of young adult romance books features an array of diverse characters including different sexualities, ethnicities, social classes and disabilities.
Lara Jean's idea of love comes from all the cheesy romance novels that she's read but she's never actually had a boyfriend.
When she crushes, she crushes hard and has a secret box with a letter to each crush in her closet. These letters somehow end up mailed out to each of the boys and Lara Jean is mortified.
Especially because one of those boys is her best friend and sister's ex-boyfriend, Josh.
To convince Josh that those feelings are a thing of the past, she strikes up a fake relationship with the school's top lacrosse player who's trying to make his ex jealous.
This is the kind of teen romance novel that will make you feel all warm and fuzzy inside and you'll wish you had a friend like Lara Jean.
The Netflix adaptation is a must-watch too!
Buy To All The Boys I've Loved Before: Amazon | Book Depository | Waterstones | Blackwells
Red, White & Royal Blue has a completely ridiculous premise. A fake friendship is staged between Alex Diaz, first son of the USA and Prince Henry, heir to the throne of England, after they are papped brawling at a royal wedding.
At first, the two despise each other, but after being forced into each other company's, they realise that neither is quite the same as their public image suggests.
I wasn't expecting to love this book as much as I did.
Whilst the premise is so so silly this turned out to be a wonderful romance story between two famous teens with a lot of responsibility on their shoulders. It's funny, sexy and heartbreaking and one of the best gay teen love stories out there.
If you love enemies to lovers books then this is for you.
Buy Red, White & Royal Blue: Amazon | Book Depository | Blackwells
The Fault in Our Stars is one of the most heart-wrenching young adult books ever written. It follows the story of Hazel Grace Lancaster, a lung cancer patient (though, she wouldn't be very happy if she heard anyone defining her by her disease like that).
After being diagnosed with depression, she is forced to attend a support group where she meets Augustus Walters, a gorgeous and muscly boy who for some unknown reason (to her) is interested in her.
They develop a close relationship, bonding over their shared experiences and fears and bring much more colour and excitement into each other's lives than either could have hoped for.
Each is finally able to feel like a "normal" teenager as they discover the joy and pain of first love. Be warned, this book will make you cry buckets.
READ MORE: The Fault in Our Stars Book Review and The Fault in Our Stars Quotes
Buy The Fault in Our Stars: Amazon | Book Depository | Waterstones | Blackwells
READ MORE: The Fault in Our Stars in Amsterdam
Bianca Piper is a cynical teenager with a coarse demeanour and a bit of an attitude. She's not like the other girls at her high school who preen themselves before parties and flick their hair in front of boys.
Bianca thinks she's above all that.
However, her tough exterior is tested when she's referred to as the "DUFF" by Wesley, the most popular boy in school. DUFF stands for designated, ugly, fat friend. And no matter how thick-skinned you are, that title has got to hurt.
But Bianca's home life is a bit of a mess and she somehow finds herself in an enemies-with-benefits situation with Wesley.
Sleeping with him is an easy way to forget everything else that's going on but, of course, feelings start to develop.
Both are in denial about the chemistry they have and things start to get complicated.
Buy The DUFF: Amazon | Book Depository | Waterstones | Blackwells
When Dimple Met Rishi perfectly captures the struggles of an Asian American in terms of love, education and family.
Dimple is really looking forward to a summer programme for aspiring web developers and thinks that she'll finally get a break from her parents and her mother's obsession with finding her the perfect Indian husband.
Little does she know that the boy her mum wants to set her up with is attending the same programme.
Whilst Dimple rebels against her family ideals, Rishi strongly believes in the tradition and really wants to fulfil his parents wishes when it comes to marriage.
But he'll have to win Dimple over first and that's not going to be easy. This book is about more than just first love, it's about pursuing your dreams, embracing your culture and finding your identity as a young second-generation immigrant.
Buy When Dimple Met Rishi: Amazon | Book Depository | Waterstones | Blackwells
Anna and the French Kiss tells a story that most teenagers can only dream of. It begins when Anna is reluctantly shipped off from the USA to Paris for boarding school.
She's completely bummed out about missing senior year in Atlanta but then Étienne St. Clair walks in and suddenly life in Paris gets a lot more exciting.
He's a fellow American but was raised in England and, of course, he speaks fluent French too.
There's just one problem – he already has a girlfriend.
Anna and the French Kiss is a complicated tale of love and you'll move between wanting to shake some sense into the characters and then swooning at their blossoming romance.
With Paris as its backdrop, this book is irresistibly romantic and will take you to Notre Dame Cathedral, the Catacombs and more.
RELATED: 28 Best Books Set in Paris
Buy Anna and the French Kiss: Amazon | Book Depository | Waterstones | Blackwells
The Geography of You and Me is all about long-distance relationships. Lucy lives in a swanky NYC apartment whilst Owen is the builder manager's son.
They've never spoken before but after 30 minutes stuck in an elevator together, they realise that their first impressions of one another were wrong.
They spend the night walking around New York before eventually falling asleep lying side by side on the roof of their building. But when Lucy wakes up the following morning Owen is gone.
Shortly after this night, both families are forced to leave the building.
Despite being on opposite sides of the world, the two of them continue to send postcards to each other but both of them wonder whether the distance between them, both metaphorically and physically, is just too great.
It's not a whirlwind romance but a story about how the smallest moments can turn into life-changing ones.
READ MORE: The Geography of You and Me Book Review
Buy The Geography of You and Me: Amazon | Book Depository | Waterstones | Blackwells
Pushing The Limits is, on the surface, your typical bad boy / good girl love story. However, it turns out to be so much more than that.
Echo goes from being one of the most popular girls at school to being the girl with the scars on her arms that no one dares to talk about. Noah seems like your typical teen womaniser but ends up being an understanding and caring soul.
Both characters carry a lot of emotional baggage but together they start to move forwards and come to terms with their difficult, even devastating, family circumstances.
The story is written from the alternating perspectives of both Echo and Noah so you really get to know both characters inside and out.
This is a gritty teen romance novel that's heartwrenching at times, sensual at others, but it's certainly not light reading.
RELATED: Dare You To Book Review
Buy Pushing the Limits: Amazon | Book Depository | Waterstones | Blackwells
The premise of Dash & Lily's Book of Dares is the sort that I'm sure many book lovers have dreamed about. Dash stumbles across Lily's notebook, wedged on a shelf at his favourite bookstore, next to his favourite book. Inside, he finds a list of things to do, if he dares (and of course he does) and so their special correspondence begins.
Dash and Lily are both misfits who are much more comfortable with writing things down rather than saying things out loud, which makes them the perfect pair.
They learn about each other through their exchanges in the notebook and don't even meet each other until about three-quarters of the way through the book.
This story forces you to think about what you're really looking for in that special someone and warns you not to get too caught up in the idea of someone, which is a very important lesson.
READ MORE: Dash & Lily's Book of Dares Book Review
Buy Dash & Lily's Book of Dares: Amazon | Book Depository | Waterstones | Blackwells
Sarah Dessen is one of the OG teen romance writers and The Truth About Forever is one of her best. Macy is about to spend the summer working in the library whilst her boyfriend goes off to Brain Camp.
She thinks she loves him but after he brutally dumps her via email, she realises she needs to make some changes in her life.
The truth is, she's been in a bit of a rut since her father passed away but then Wes enters her life and she starts to come out of her shell and learns to move forwards.
This story will send you into emotional turmoil with a mix of heavy material surrounding grief at a young age but with fun and romantic aspects too.
RELATED: The Moon and More Book Review
Buy The Truth About Forever: Amazon | Book Depository | Waterstones | Blackwells
The Wrath and the Dawn by Renee Ahdieh is an Arabian Nights retelling with a unique premise. Every day King Khalid marries a different girl and by morning she is dead.
Shahrzad volunteers as his next bride so she can punish the boy-king for inflicting this horrible fate on so many women.
On her first night in the palace, she tells Khalid a story and then, instead of killing her, he asks her to come back the next night. This continues night after night and the two develop feelings for each other.
But Shahrzad is conflicted.
How could this man be the same king who murdered so many women before her?
There's more to King Khalid than the rumours suggest and Shahrzad has to struggle with her growing feelings whilst trying to get to the bottom of it all.
This book ticks all the boxes: well-developed, lovable characters coupled with a complex and intriguing plot.
Buy The Wrath and the Dawn: Amazon | Book Depository | Waterstones | Blackwells
RELATED: YA Fantasy Books Like Throne of Glass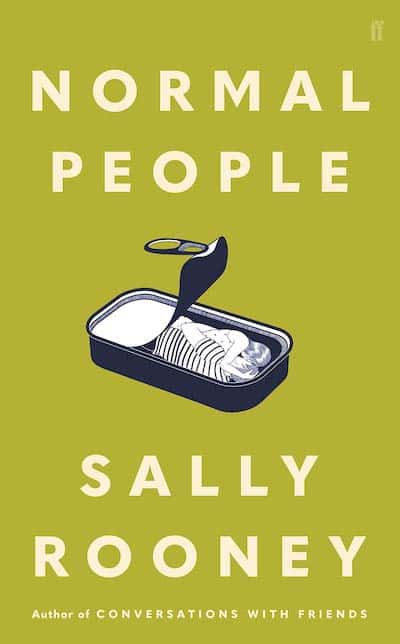 Marianne and Connell attend the same school but their social lives are worlds apart. Whilst Marianne is somewhat of a social pariah, Connell is part of the popular crew.
They strike up a secret romance that develops into an intense relationship that shapes both of their lives forever.
Normal People starts as a teen romance novel but we follow Marianne and Connell through to their uni days and beyond.
No book before this has captured the pain of first love, of heartbreak, of isolation that one experiences when transitioning from a teenager into a young adult so well.
This isn't as light as the other teen romance books on this list but it is required reading.
READ MORE: Books Like Normal People
Buy Normal People: Amazon | Book Depository | Waterstones | Blackwells
My Life Next Door is a popular contemporary teen romance novel which is character-driven, rather than plot-driven. Samantha Reed looks like she has the perfect life: an influential mum, great grades at private school, yadda yadda yadda.
Right next door to them are the Garretts, a family that couldn't be more different. Large, sprawling, warm, open, Samantha's neighbours have always intrigued her. In fact, she secretly wishes she could be one of them.
Then one evening, Samantha is sat on her rooftop perch when none other than Jase Garrett climbs up next to her.
The romance that develops between them is sweet and slow, the epitome of a first teen romance. Whilst this book might sound like light fluff, the suspense builds throughout the novel and it ends on a note that you can't predict.
Buy My Life Next Door: Amazon | Book Depository | Waterstones | Blackwells
Geekerella is a must for any self-confessed nerds and fangirls out there. It takes the classic story that you know so well but this time Cinderella is a geek girl who is obsessed with the sci-fi series Starfield (basically Star Trek).
When Ella sees a Starfield cosplay contest that could win her a ticket to the Cosplay Ball and a meet and greet with the lead man in the Starfield reboot, she knows she has to enter. And win. The trouble is, her stepsisters are entering too.
Meanwhile, there's teen actor Darien Freeman who has become somewhat disillusioned with fame.
He loves cons and has dreamed of starring in Starfield but fans of the series have written him off as nothing more than a dumb teen heartthrob making him question what he's doing. That is until Elle walks into his life.
Buy Geekerella: Amazon | Book Depository | Waterstones | Blackwells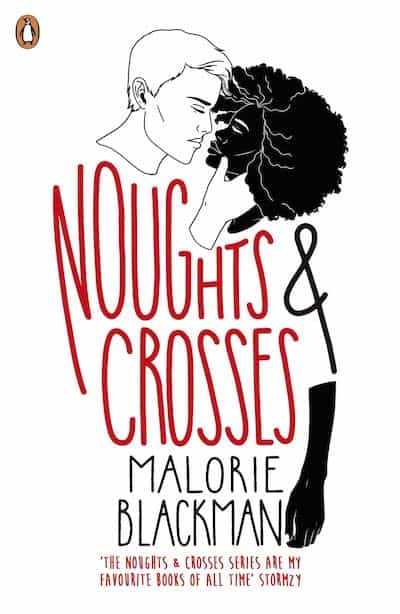 Noughts and Crosses is the most powerful book on the list and a book that will stay with me forever. If you only read one book on this list, make it Noughts and Crosses.
The premise is that "Crosses" (black people) are the privileged and "Noughts" (white people) are seen as inferior. Sephy and Callum grew up playing together and are the best of friends.
But Sephy is a Cross and Callum is a Nought.
As they grow older and move towards adulthood, their relationship becomes more complicated.
There's clearly an element of romance there but their wildly different social statuses and the prejudiced world they live in mean that the odds are stacked against them.
This is a thought-provoking and heart-wrenching read that will stay with you long after you turn the last page. It deals with first love, race, inequality, family and more.
Buy Noughts and Crosses: Amazon | Book Depository | Waterstones | Blackwells
Heartstopper is the only graphic novel on this list and one of the most wholesome and heartwarming tales.
It centres around Charlie Spring, a gay teenager at an all-boys school. He's a sensitive teenager and a massive overthinker so it's a surprise to everyone when he strikes up a friendship with Nick Nelson, a popular rugby lad.
The two spend more and more time with each other and soon become the best of friends as Nick realises his other rugby friends aren't all. But is there more than friendship here?
These two young teenagers slowly fall in love with each other and this novel captures the struggles of first love, coming out and exploring one's sexuality perfectly.
This is the kind of book you can read in one sitting (before immediately ordering volume two).
If you've never tried graphic novels, this is a great one to start with.
Buy Heartstopper: Amazon | Book Depository | Waterstones | Blackwells
Callie and Kayden attended high school together but they were never friends. Callie is a social recluse and Kayden is the boy with the football scholarship but both have hidden traumas that they can't and won't talk about.
Four months before they start university, Callie sees Kayden and his father having an argument that results in Kayden's Dad violently beating him.
Callie doesn't like talking to anybody, she doesn't have friends and she hates social interaction but she steps in and stops his father.
The story then jumps to the present. University is just starting and Kayden runs (literally) into Callie and a romance begins to blossom.
This book is more than just a love story. It's quite heavy in places as both characters carry a lot of baggage but over time you watch them grow, learn to trust again and move on from their past traumas.
READ MORE: The Coincidence of Callie and Kayden Book Review
Buy The Coincidence of Callie and Kayden: Amazon | Book Depository | Waterstones | Blackwells
I Believe in a Thing Called Love is about Desi Lee, the perfect student in every respect. She's got amazing grades, she's good at sports and she's applying to Stanford.
But she's never been good at boys. She has no idea how to talk to boys but decides to solve this problem by devising a step-by-step plan to get a boyfriend modelled on the plots of Korean dramas.
This is a very cheesy YA romance book but Desi's failures when it comes to love are often laugh-out-loud funny and this is a quick and entertaining read.
What's more, I couldn't believe my eyes when I saw an Asian girl on the cover of a popular young adult read!
The numerous references to Korean dramas, the acceptance of these by Desi's non-Asian friends and the portrayal of her Dad as a completely amazing immigrant parent were really quite something.
Buy Maurene Goo: Amazon | Book Depository | Waterstones | Blackwells
Anna K is a daring mash-up of Gossip Girl and Anna Karenina that adds a modern twist to a classic tale.
It centres around an elite group of ridiculously wealthy teens who what wealthy teen heirs do best: throw lavish parties, shop at the most exclusive places in New York and gossip like nobody's business.
The protagonist is Korean-American Anna K who seems to have the perfect life and perfect boyfriend. At least on paper.
In real life, he's desperately boring.
So, when Count Vronsky (no, I'm not making this up) walks into her life, she's thrown into teen turmoil as she weighs up how much of her seemingly perfect life she is willing to give up for a chance to be with him.
This is all about first love and heartbreak with the dazzling background of upper-class New York.
Buy Anna K: Amazon | Book Depository | Waterstones | Blackwells
Tweet Cute is a teen romance book for the millennial generation. Pepper's family owns the massive Big League Burger food chain, whose Twitter account she secretly runs.
Then there's Jack whose family owns a local deli. When Big League Burger steals one of his grandma's iconic recipes, he won't let it slide. He becomes a keyboard warrior, fighting Big League Burger one tweet at a time.
They battle is out online which generates lots of public interest and people even end up shipping them. Little do they know that they attend the same high school and are speaking to the same person they've been falling for on an anonymous chat app!
This book is one for the digital generations who don't go anywhere without their phones and have faith you can fall in love over the internet.
Buy Tweet Cute: Amazon | Book Depository | Waterstones | Blackwells
And that concludes my list of the top teen romance books to read this year! Do you have any other teen love story books to recommend? Drop your favourites in the comments below!
If you liked this post, you might also like:
Books Like the Hunger Games
Books Like Throne of Glass
Books Like Normal People
Books Like Eleanor Oliphant is Completely Fine
Books Like The Hating Game
26 YA Fantasy Books to Read
17 YA Dystopian Books to Read
10 Life-Changing Books to Read