Looking for a list of the best gothic novels from classics all the way to modern gothic books? We've got you covered! Josephine W shares her top recommendations for gothic fiction in today's post.
There is something despicably delightful about the chill you get from reading a gothic novel. And we're in good company here – the thrill of the violence, gore and horror within these books has enticed readers for centuries.
The gothic genre continues to evolve in scope as it modernises (from fainting damsels to political and sociological exploitation), but it will forever hold its place as the darker, more twisted side of our bookshelves.
We've broken up our list of famous gothic novels chronologically, from 1764 to 2018, taking you from the very first examples of classic gothic literature, all the way through to where the genre stands today, including some of the most exciting examples of modern gothic books.
We hope that you get as much of a thrill from our 15 favourite gothic tales as we do!
Classic Gothic Novels
These centuries-old texts are, without a doubt, some of the best gothic books in existence.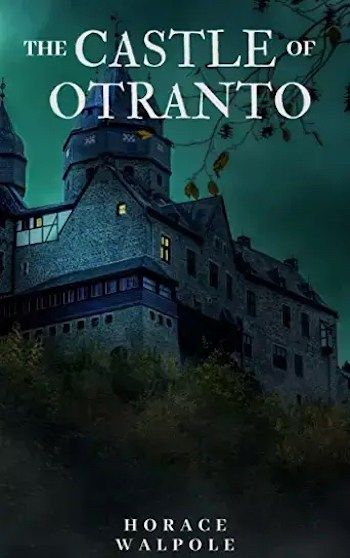 We're taking you on a complete tour of the best gothic fiction, so, let's start from the very inception of the gothic genre – The Castle of Otranto. This gothic book is widely recognised as the very first gothic novel.
Interestingly, The Castle of Otranto reads like a lesson in the gothic. Today, it invites modern readers to consider what features of the genre have stuck, and what tropes did not stand the test of time.
These include everything from murder and political upheaval, to giant castles (naturally), damsels in distress, curses, corruption, the supernatural, and a giant floating helmet, of course.
This pivotal text laid the foundations for the gothic genre, including the characteristic tropes and the macabre violence that readers have loved for centuries since. That said, the idea of a giant supernatural helmet didn't stick in gothic books for much longer!
Buy The Castle of Otranto: Amazon | Blackwells | Waterstones | Book Depository | Bookshop.org
This gothic novel is right up there as one of the most controversial books in print, ever.
Justine has a long history of being banned and unbanned. In fact, the novel's publication resulted in Sade himself being imprisoned for the last years of his life.
For those of you who may be tempted by the alluring prospect of reading a banned book, it's not one to pick up lightly. Justine was written as a thought experiment designed to support Sade's claim that human nature is intrinsically, inescapably, evil.
The book is designed to shock readers to their very core and, even now, over 200 years later, it still does exactly that. This gothic horror novel follows the miserable life of Justine (just 12 years old at the start of the novel!), who experiences countless accounts of torture and violence. Don't underestimate its brutality.
Buy Justine: Amazon | Blackwells | Waterstones | Book Depository | Bookshop.org
READ MORE: 15 French Classics to Read
We are all familiar with the monster made up of human body parts, stitched together by a scientist trying to cheat God. But did you know that Mary actually came up with this idea on a writer's retreat weekend?
She was staying in Geneva with fellow literary giants, including Percy Shelley (her husband) and Lord Byron, and the story goes that the group held a ghost story competition, where each person submitted a story that they'd devised over the course of the holiday.
Don't be fooled by its vacay origin story, though. This novel is designed to shake us to the core. It challenges our conceptions of morality, fate, and what it means to be human. You will be gripped from start to finish, hopeful of (and surprised by) the monster's intrinsic goodness and despair at the inevitable conclusion of the novel.
Buy Frankenstein: Amazon | Blackwells | Waterstones | Book Depository | Bookshop.org
READ MORE: 6 Chilling Classics to Read
If you haven't already heard of this novel, you'll have at least heard Kate Bush sing about it.
Wuthering Heights features one of literature's most infamous dark, brooding protagonists. The orphan Heathcliff lives his isolated, pitiful and mysterious existence out in the wild English moors. This book revolves around tragic love, and its ugly spin-offs of cruelty, abuse, and injustice.
Emily Brontë's only novel is revered for its portrayal of humanity's passion – both the deep love of Heathcliff and Cathy that has never failed to captivate readers, and the ruthless betrayals that cause countless characters to bring about their own undoing.
The worst part is, it's hard to feel sympathy for any one of these unfortunate characters. The gothic tragedy of this novel is unique in its equal measures of complexity, emotion and devastation.
Buy Wuthering Heights: Amazon | Blackwells | Waterstones | Book Depository | Bookshop.org
After reading this story, how could you not fear the Hyde that exists within each of us?
As with many of the gothic books on this list, we're already familiar with the basic elements of this plot – good vs. evil, Jekyll vs. Hyde. But a basic knowledge of the famous split-self trope only scratches the surface here.
Plus, even if classic literature is not normally your favourite thing to get stuck into, these centuries-old, famous gothic books are anything but outdated.
Stephenson positions our cruel, deeply-hidden alter ego against our socially acceptable and moral side (i.e. the one that we show to the world), forcing his readers to question their own sense of self. Although at first the two appear to be completely separate beings, in reality, they are fundamentally intertwined.
Buy Dr Jekyll and Mr Hyde: Amazon | Blackwells | Waterstones | Book Depository | Bookshop.org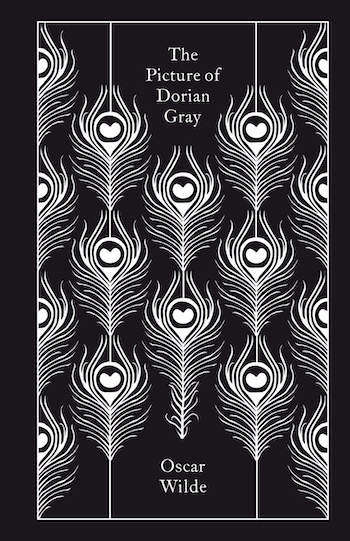 This portrayal of indulgence, decadence and eroticism, with allusions to homosexuality thrown in, are what Wilde's writing is all about. The devilish character of Henry pitted against the young and wholly pure Dorian leads to an ever-darkening series of twists and turns.
The entire plot unravels as a result of Dorian's wish to exchange his soul for remaining young and beautiful forever. The corruption of Dorian's innocence is painted on a canvas for him, which we as readers bear witness to.
Wilde's criticism of vanity is at the core of this cautionary tale, but its warning is without lessons learnt or a happy ending. It takes readers by the hand and leads them through the crime, drugs, lust and decadence of the Victorian underworld.
As Wilde puts it:
'All art is at once surface and symbol.
Those who go beneath the surface do so at their peril.
Those who read the symbol do so at their peril.'
Buy The Picture of Dorian Gray: Amazon | Blackwells | Waterstones | Book Depository | Bookshop.org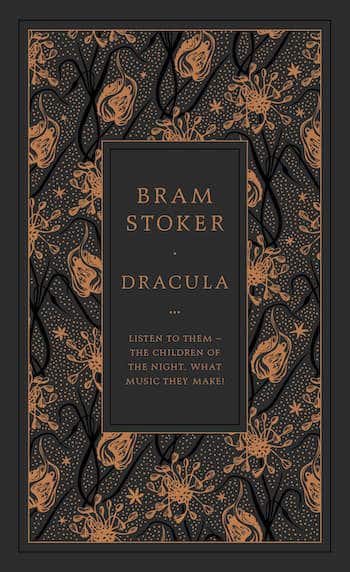 Disclaimer – the adaptations have nothing on the original.
Unless you've lived under a rock on Mars for your entire life, you'll know a thing or two about vampires. But be prepared to re-think everything you believe. In Bram Stoker's novel, the original vampire is infinitely more unnerving, complex and mysterious. No sparkly vampires to be seen here.
The sheer malice of this character will terrify you, even if you're cosied up at home and reading in the middle of the day.
This gothic epic follows humanity's best attempt to bring down Dracula, from Johnathon Harker's first meeting with the Count, to the fight of a brave, determined group of people whose mission is to end Dracula's reign of tyranny.
This battle takes readers across Europe, provides accounts of some horrific scenes, and helps you understand the full magnitude of horrors that a vampire can wreak.
Buy Dracula: Amazon | Blackwells | Waterstones | Book Depository | Bookshop.org
Modern Gothic Novels
Now, we're onto contemporary gothic novels – slightly different angles, but just as terrifying.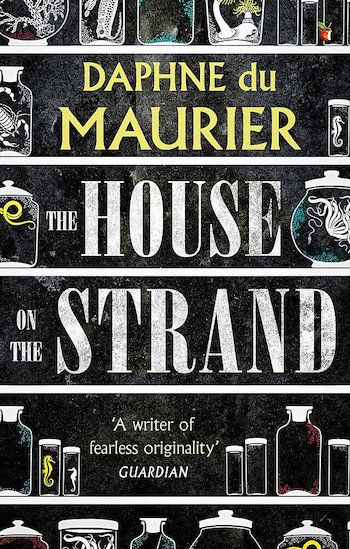 This lesser-known text from Du Maurier's body of work is deep, dark, mysterious and scientific – the perfect mix for a modern gothic novel. In this story, a new drug offers users the ability to travel through time.
We are catapulted back to fourteenth-century Cornwall along with the narrator, Dick, who sees this trip as a way of escaping the troubles that he is facing in the present. As he is, we are increasingly consumed by the criminality, sexuality and immorality that characterises this glimpse of the past.
Running parallel to this historic corruption, in the present, Dick becomes increasingly disassociated with his time and his addiction gradually takes over. This is time travel as you've never seen it before – taken from the realm of sci-fi and reimagined in a way that only the gothic can.
Buy The House on the Strand: Amazon | Blackwells | Waterstones | Book Depository | Bookshop.org
Through Beloved, Toni Morrison uses the gothic form to construct an unimaginably moving tale of grief, which exemplifies some of the most devastating experiences of African Americans.
She takes the classic gothic trope of a ghost and completely subverts the reader's expectations in order to create something far more personal and potent. Here, the ghost is a baby girl, who haunts her mother and her home.
This challenging and masterful gothic story provides readers with a version of history and our place within it that is unlike any other.
It is a must-read, not just because of Morrison's beautifully crafted language, but because of the singular approach that she takes in her portrayal of African American history.
This book teaches its readers so much about the past and how it shapes the future, and the way that Morrison uses the gothic to achieve this is exceptional.
Buy Beloved: Amazon | Blackwells | Waterstones | Book Depository | Bookshop.org
You've probably seen the iconic film, which stands as one of this century's top cult movie classics. Many reviewers raved (and many others rebuked) the gore of the film and its raving madman of a narrator.
The book, however, takes these elements so much further. After all, in the novel, there is no escape for the reader from the inner workings of Patrick Bateman's psychotic mind.
We are witnesses to his crimes, watching victims (a huge number of animals, homeless people, vulnerable women and fellow businessmen) fall prey to his unbelievable crimes. These crimes are all centred around a critique of American consumerist, capitalist culture, the self-obsession of which seemingly lends itself to these actions. It's a disturbing tale for so, so many reasons and we highly recommend it.
Buy American Psycho: Amazon | Blackwells | Waterstones | Book Depository | Bookshop.org
Few books distort our sense of history, science and society quite so utterly as Boxer Beetle. This dark gothic tale takes us back to an alternative version of the 1930s, where we follow the life and work of Seth Roach (a Jewish boxer) and Erskine (a scientist obsessed by eugenics and the Nazi ideology).
It is filled with lust, violence and a disconcerting take on scientific ideas – with the lines between human immorality, sexuality, and the exploitation of animals being thoroughly blurred.
This time-travelling gothic horror book gives us a completely unprecedented perspective of history, and nothing is as we could have anticipated.
From start to finish, as we hurtle from modern day email conversations to the twisted obsessions of Erskine, this story is utterly gripping. What's more, it reminds us to never underestimate anyone – be they boxer or beetle.
Buy Boxer Beetle: Amazon | Blackwells | Waterstones | Book Depository | Bookshop.org
A decaying rural mansion? Check. Ghosts? Check. Ancient diaries? Check. This is terror with a modern twist and it ticks all of the quintessentially gothic boxes.
The Silent Companions is a ghost story that follows the young, newly-wed Elsie as she navigates her way through an eerie, isolating mansion. As with any good ancient estate, it is filled with secrets, skeletons in the closet (not literally, but we wouldn't be surprised), locked doors, troubling histories and supernatural elements.
Even as a reader, you feel trapped alongside Elsie in this claustrophobic house, which surrounds your senses and consumes your thoughts at every moment. These historic rooms have a life of their own, and the ancestors who shared this space never truly left it. This unnerving story is the perfect blend of modern and classic, expected tropes and unexpected twists.
Buy The Silent Companions: Amazon | Blackwells | Waterstones | Book Depository | Bookshop.org
This artful novel opens with a timeless depiction of terror, one that could have been taken from a gothic story written in any century.
It begins at an inn on the Thames set in an unspecified ancient time period, and a man bursts into the scene carrying the body of a drowned little girl. However, a few hours later, the girl wakes up.
As a fallout of this supernatural occurrence, the tale unfolds into a complex web of layers, questions and mysteries. Its rich language and elegant, flowing narrative fuse together the style of a mythical tale with the twists and shocks that all good popular gothic novels can boast of. It's a dark type of magic this one, so readers, be wary where you tread.
Buy Once Upon a River: Amazon | Blackwells | Waterstones | Book Depository | Bookshop.org
Sarah Perry's third novel has been as popular with readers as its widely-acclaimed predecessor, The Essex Serpent.
Melmoth features a terrifying gothic figure – a woman dressed in black with dripping, bloodied feet, who is present to confront the guilty at all of humanity's most evil moments.
As with so much of the gothic canon, this text is not afraid to pose some of the most fundamentally troubling questions there are to its readers.
What does the concept of conscience mean? Is forgiveness possible in the face of unspeakable actions?
How do we classify a text as gothic? For us, it is all about the questions it asks. In Melmoth, Perry's tackling of some of the darkest tropes imaginable is masterful, and it is an exceptional example of what the gothic novel stands for.
Buy Melmoth: Amazon | Blackwells | Waterstones | Book Depository | Bookshop.org
The intriguing concept that Collins explores here is a world in which it is possible for humans to stitch their memories into the pages of a book. One might do this to forget something unspeakable, or even to force others to forget something they witnessed.
The twists keep getting darker, and the deeper we delve into this world, the more we see how the "book binding" trade has been exploited for evil purposes.
The Binding contains all of the best elements of a just-can't-put-it-down page-turner, but combines it with a mind-bending gothic concept, then adds an intense, passionate relationship for good measure.
It has received extensive acclaim for good reason. The Binding is a thrilling, dark and intense gothic romance novel, which leaves readers on tender hooks right from page one.
Buy The Binding: Amazon | Blackwells | Waterstones | Book Depository | Bookshop.org
Are you feeling gripped by the gothic? Let us know your favourite spine-tingling gothic books in the comments below!
Josephine is a freelance content writer from the Peak District. The majority of her work involves writing for businesses in the food, drink, lifestyle and culture sectors. She spends a lot of her free time (true to form) reading, writing, cooking and exploring speciality cafes.
If you liked this post, you might also like:
15 Classic French Novels
10 Classic Italian Novels
15 Best Japanese Novels
9 Best Korean Novels