If you loved My Policeman by Bethan Roberts, keep reading for 9 more moving books to add to your reading list!
My Policeman is a moving book. It lays bare the marriage of Marion and Tom: on paper, a perfectly socially acceptable marriage between a teacher and a policeman.
Marion falls head over heels in love with Tom right from the start. However, museum curator Patrick is also falling for Tom at the same time. The pair compete for Tom's affections in a way that feels realistic and desperate.
The three are bound together, and their lives clash painfully as they try to navigate how to deal with it all against the backdrop of less-than-tolerant 1950s Brighton.
It's a heartbreaking and tender story, soon to be adapted into a movie starring Harry Styles. If you're patiently waiting for the movie to drop, here are nine books like My Policeman: LGBT love stories, complicated relationships, and wistful reflections on the unexpected paths our lives can take.
9 Books Like My Policeman
Like My Policeman, The Weekend is about reflecting on our lives once we're old enough to have hindsight.
However, rather than focusing on romantic relationships, it explores a long-standing friendship between four women with entirely different personalities. When Sylvie a beloved group member, passes away, the other women have to figure out what their friendship dynamic will be going forwards.
It's poignant, sometimes brutally honest, and also hilarious. The unfolding reality of their friendship is absorbing to read. A story about the lies we tell each other, the lies we tell ourselves, and becoming brave enough to uncover the truth.
Sharing a tone of wistful nostalgia with books like My Policeman, Old Baggage follows former Suffragette Mattie. Bored and listless, she decides to try to inspire the next generation of women to fight for their rights.
Mattie is an interesting character. She's not perfect, and she makes some mistakes along the way. Old Baggage is a tender-hearted look at what happens when your love for another person cannot be safely expressed, and the difficulty that comes from being a non-conformist as you grow older.
Expectation is the kind of novel that unfurls, slowly, with enough breathing room for the characters to get under your skin. Three friends look back on the vibrant energy they had and plans they made in their twenties and wonder: what happened?
It's similar to My Policeman in that it involves plenty of reflection, as well as characters struggling to face up to the reality of what their life has been so far.
As Hannah, Cate, and Lissa try to figure out their next steps, they reevaluate their friendship based on the people they have become. A novel about change, drifting apart, and trying to forge new connections based on fresh perspectives.
Go for this one if you like a slow-burner!
Shuggie Bain was massively popular when it was published in 2020. The story of growing up in 1980s Glasgow follows Shuggie, a boy abandoned by his siblings and forced to care for his alcoholic mother. He also has to deal with the crushing pressure of being gay in a poverty-stricken, hetero-normative setting.
It's blisteringly sad, grim at points, in the manner of A Little Life or similar books. However, it's a powerful and moving read. One to go for if you love a book with emotional impact.
If you enjoy a novel that develops over the course of a character's whole life, it's worth picking up The Heart's Invisible Furies. It follows the main character Cyril Avery as he grapples with his sense of identity, both in terms of his sexuality and his origin story.
As an adopted child, Cyril is never fully accepted by the Avery family but has no idea how to trace his birth mother. The Heart's Invisible Furies is his (sometimes spectacularly clumsy) attempt to discover who he is.
Starting in 1945, this novel is an epic journey through place, time, and human relationships. It's the kind of novel that stays with you for a long time afterwards.
A rollercoaster of a novel, It Ends With Us will keep you on your toes. It follows Lily, a business owner, and her conflicting feelings for two men.
On the one hand, there's Ryle: a handsome neurosurgeon with a complicated past. On the other hand, there's Atlas, a kind and protective figure from Lily's past.
It sounds like a typical love triangle story, but the relationships have depth and complexity. Like My Policeman, it's an exploration of the way our lives intertwine, sometimes for unexpected reasons.
A classic from the popular writer Taylor Jenkins Reid, The Seven Husbands of Evelyn Hugo is the story of reclusive Hollywood superstar Evelyn. Telling her honest life story to a journalist, Evelyn's secrets slowly unfold throughout the book, and her reality is nothing like her fans and the press have come to believe.
Like My Policeman, Seven Husbands reflects on the heavy burden that comes from keeping a lifelong secret, and how the fallout of keeping that secret impacts not only the person at the centre of it but their closest loved ones, too.
RELATED: Books Like The Seven Husbands of Evelyn Hugo
Set in 1926 in rural Sussex, The Good Plain Cook follows Kitty, a local girl responding to a fairly innocuous-sounding job advertisement. Her new employers are not quite what Kitty had expected, and her lack of cooking skills begins to catch up with her as she struggles not to get caught in a lie.
The setting feels authentic, and it's an interesting look at class boundaries in 1920s Britain, and what happens when someone attempts to cross those boundaries.
Adapted into a movie starring Leonardo DiCaprio and Kate Winslet, Revolutionary Road is the story of a couple locked in a suffocating marriage in an oppressively 'perfect' town. Frank and April Wheeler have a slowly disintegrating relationship, with resentment building on both sides.
It's a frank and sometimes quite grim look at the reality of life for a couple who, on paper, should have everything going for them.
As Frank comes to realise that he is not a remarkable man on the cusp of a breakthrough, but rather a normal guy struggling through a regular life, April starts to resent her role as a housewife.
It's reflective and quite sharp at times, but it's a must-read if you enjoyed the realistic portrayal of relationships in My Policeman.
Hopefully, this list of books similar to My Policeman will help to keep you entertained while we wait for the Harry Styles movie to arrive!
If you liked this post, check out these:
Books Like Normal People
Books Like The Hating Game
Books Like Where the Crawdads Sing
Books Like Little Fires Everywhere
Books Like The Handmaid's Tale
Books Like The Book Thief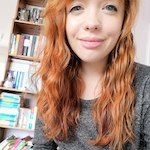 Megan Bidmead
Guest writer
Megan is a freelance writer based in Somerset, England. When she's not writing about books, videogames, and pop culture, she's running around after her two kids and trying to squeeze in the occasional walk in the countryside.