Before I Go to Sleep

on April 28th 2011
Pages: 368
Goodreads

Christine wakes up every morning in an unfamiliar bed with an unfamiliar man. She looks in the mirror and sees an unfamiliar, middle- aged face. And every morning, the man she has woken up with must explain that he is Ben, he is her husband, she is forty-seven years old, and a terrible accident two decades earlier decimated her ability to form new memories.But it's the phone call from a Dr. Nash, a neurologist who claims to be working with Christine without her husband's knowledge, that directs her to her journal, hidden in the back of her closet. For the past few weeks, Christine has been recording her daily activities—tearful mornings with Ben, sessions with Dr. Nash, flashes of scenes from her former life—and rereading past entries, relearning the facts of her life as retold by the husband she is completely dependent upon. As the entries build up, Christine asks many questions. What was life like before the accident? Why did she and Ben never have a child? What has happened to Christine's best friend? And what exactly was the horrific accident that caused such a profound loss of memory?Every day, Christine must begin again the reconstruction of her past. And the closer she gets to the truth, the more un- believable it seems.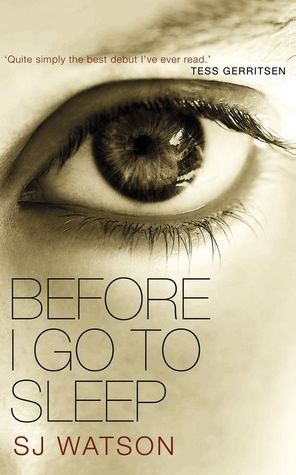 Book Review
Before I Go To Sleep is a chilling thriller about a woman who suffers from a severe form of amnesia that means that every time she falls asleep she loses most of her memories and wakes up thinking that she is still in her mid-twenties. She has absolutely no recollection of the accident that caused her amnesia or the fact that the man she wakes up next to everyday is her husband, Ben.
Every morning Ben explains the situation to her and Christine keeps herself busy in the house until Ben comes home from work. One day, she receives a call from a young doctor who wishes to try and help her regain her memories.
She starts seeing him in secret, her husband would not allow her to see any more doctors for fear it would 'distress' her further, and he suggests that Christine should start writing a diary of everything that she has learnt each day so that she read it back to herself later.
In this way, Christine starts to remember more and more of her past and as she re-reads past diary entries she starts to doubt the people that she trusts and wonders who is really telling the truth. This story is about Christine's journey to finding her memory.
Before I Go to Sleep starts off with an exchange between Dr Nash and Christine as he returns her notebook to her. She has already been writing in it for a few weeks and finally decided that she was ready for Dr Nash to read its contents, though of course, when she woke up that morning, she had no recollection of ever giving him the notebook, or that it even existed. This exchange is soon followed by all the diary entries that Christine ever wrote in her diary and it ends with Christine back in the present dealing with the events that follow the re-reading of her diary.
As the main character of this book is an amnesiac, we are constantly shrouded in mist as we trudge our way through this novel. There are so many mysteries and it's almost impossible to predict what's coming next, because, of course, Christine can't retain any of her memories. It's obvious that something is amiss in Christine's life but you're not really sure what because it's impossible to know who's telling the truth and who isn't. As we go through the novel we learn more and more bits about Christine's past but you're still not really sure whether her memories are real or whether they're just dreams.
None of the characters are particularly likeable but you certainly feel a sense of sympathy for Christine. Before I Go To Sleep is written in the first person so you know exactly how Christine feels at each moment and she's the only character you can really connect with. There aren't very many characters so this book is quite intense and I was totally absorbed whilst reading it.
The best way to describe this book would be to imagine that you, as a reader, are collecting more and more puzzle pieces as you work your way through this book, but you don't have any idea what the bigger picture is until you reach the very end.
I absolutely zoomed through this book because I was so desperate to find out the truth. I could not have been more surprised at the ending and you're literally second guessing everything until the very end. I would highly recommend this book to anyone and everyone. I am not a fan of thrillers but this book is one of the most interesting and intense books I've ever read.
Before I Go to Sleep was made into a film in 2014 produced by Ridley Scott and starring Nicole Kidman – anyone seen it?
If you like the sound of this, check out the following posts:
Book Review: Tampa by Alissa Nutting
Book Review: Luckiest Girl Alive by Jessica Knowles
Book Review: Into the Water by Paula Hawkins
Film Review: Gone Girl
Film Review: Red Sparrow
Stay up to date with What's Hot?
Bloglovin' / Instagram / Facebook / Twitter / Pinterest
[jetpack_subscription_form]